A NEW DAY 2024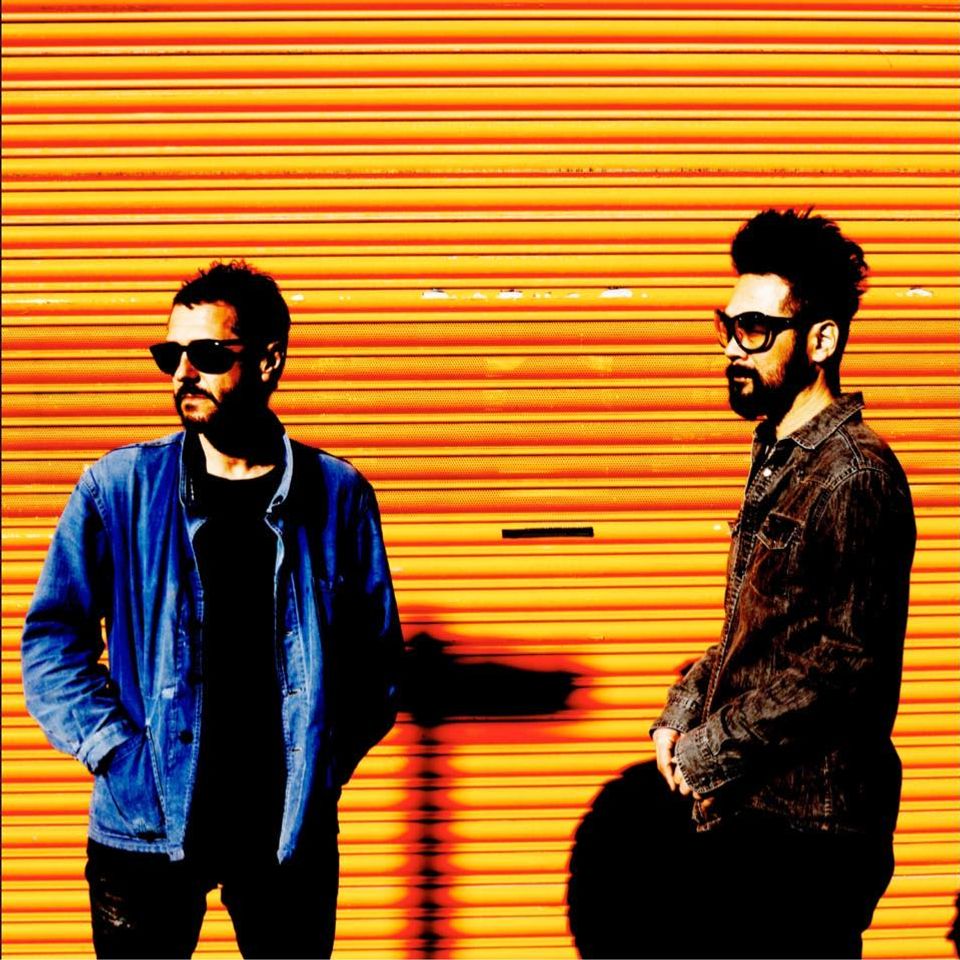 FEEDER
Feeder are a British rock band formed in Wales in 1994. They have released 11 studio albums, 12 compilations, four EPs and 43 singles, spending a combined total of 184 weeks on the singles and albums charts as of 2019, while accumulating 25 top 75 singles between 1997 and 2012. At the peak of their commercial success, Feeder won two Kerrang! awardsin 2001 and 2003; they were inducted into their Hall of Fame in August 2019. Alongside this success, the band's total consumption units from their three most popular studio albums combined, accumulate that of over one million domestically.
Feeder are one of the Britopop-era bands to have continued success long after their peak. Their 2019 album Tallulah debuted at number four, more than two decades after the group formed, and 20 years after their first top 10 album Yesterday Went Too Soon.
The band was formed in 1994, although an earlier incarnation under the name of "Reel" was formed in 1992 by vocalist and guitarist Grant Nicholas, drummer Jon Lee and bassist Simon Blight, three of the four members of Raindancer, after the departure of that band's other member, guitarist John Canham. However, Blight left Reel later in 1992, and the band played with many session bassists before hiring Taka Hirose in 1994 and re-establishing themselves as Feeder.
Feeder garnered media attention in 2001 for their third album, Echo Park, and its lead single, "Buck Rogers", which later became a UK top five single. Jon Lee died by suicide at his Miami home in January 2002.
They released their fourth album, Comfort In Sound later that year; it touched on themes such as loss and coming to terms with death, while also exploring themes of positivity. Richardson was ultimately made an official member, remaining so until May 2009 when he returned to a reformed Skunk Anansie. Feeder have since worked with a roster of drummers live and in the studio, including Tim Trotter, Karl Brazil and former Elviss drummer Geoff Holroyde. Between 2010 and 2017, the band charted four more top 20 albums, with the latest of these being 2017's The Best Of Feeder, their second consecutive top 10 album. In 2019, the band released their tenth studio album, Tallula, and in 2022, Torpedo.
Feeder will release a brand new double album Black / Red in April, before joining us again to close A New Day 2024.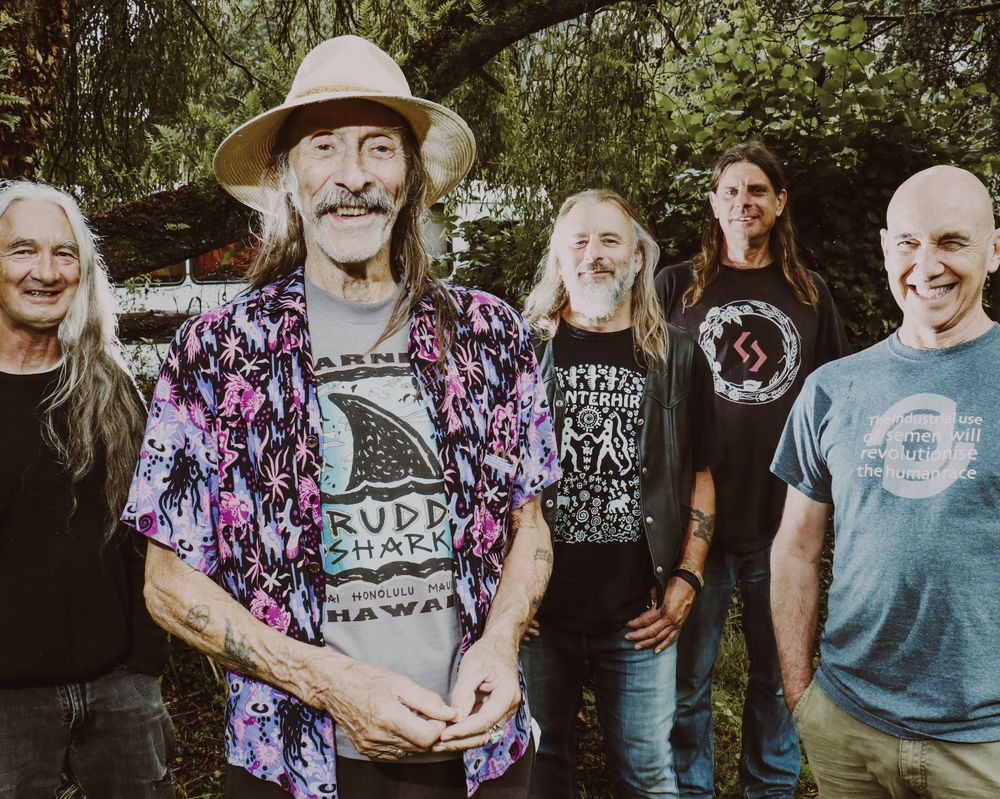 HAWKWIND
The Godfathers of space-rock, the warriors on the edge of time, the legend that is HAWKWIND return to A New Day after their sensational performance back in 2018. Prepare to be amazed!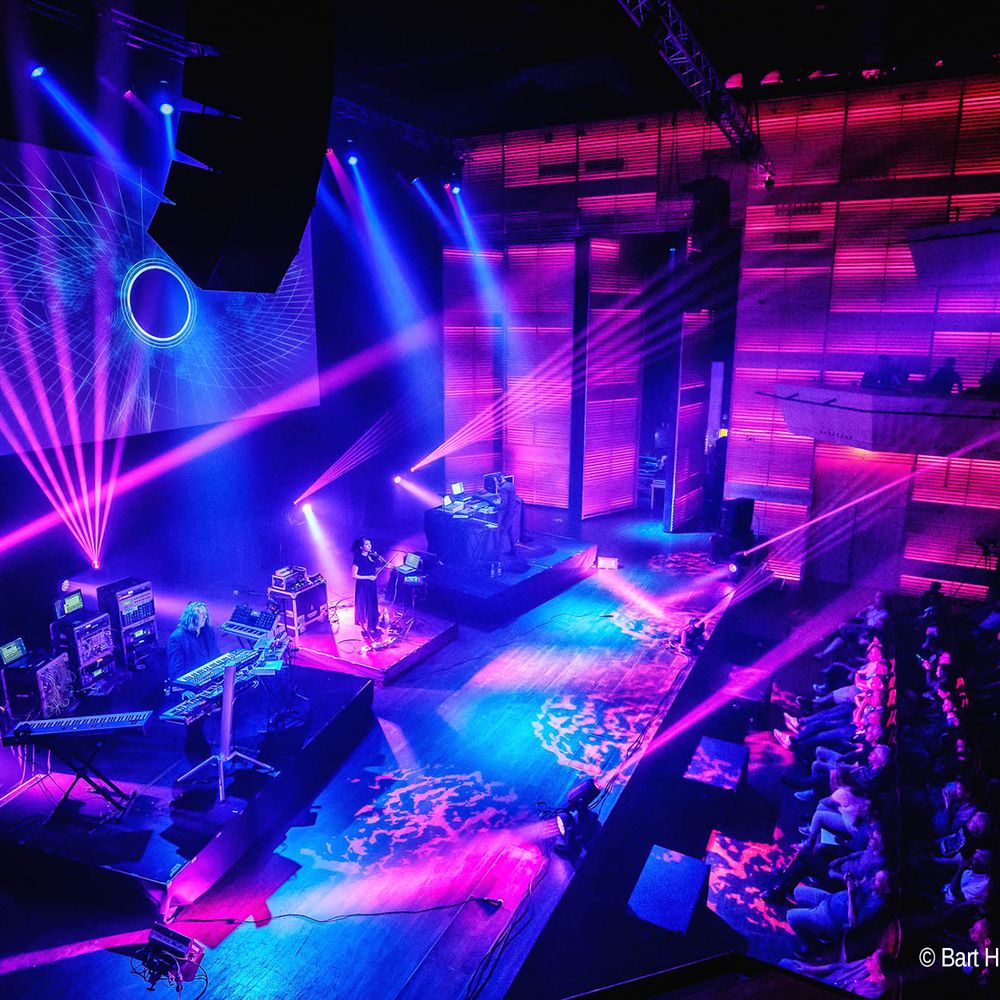 TANGERINE DREAM
Founded by Edgar Froese in 1967, Tangerine Dream were formative in the genre of electronic music, with long instrumental tracks based on synthesizer and sequencer sounds, later known as 'Berlin School' and 'Kosmische Musik'.
Their groundbreaking record Phaedra, released in 1974, reached gold status in the UK, and it was also the band's first hit album on the Virgin Records label to whom they had recently signed. The recording became a milestone in electronic music. Over the last 50 years, the band has released more than 100 studio albums, created over 60 film scores, and were nominated for a Grammy seven times. The group's line-up changed many times over the years, with Edgar Froese remaining as the only constant member.
After Edgar Froese's death in 2015, Tangerine Dream's line-up now consists of Thorsten Quaeschning, Hoshiko Yamane, and Paul Frick. The subsequent albums Quantum Gate and Raum are based on Edgar Froese's musical sketches and ideas.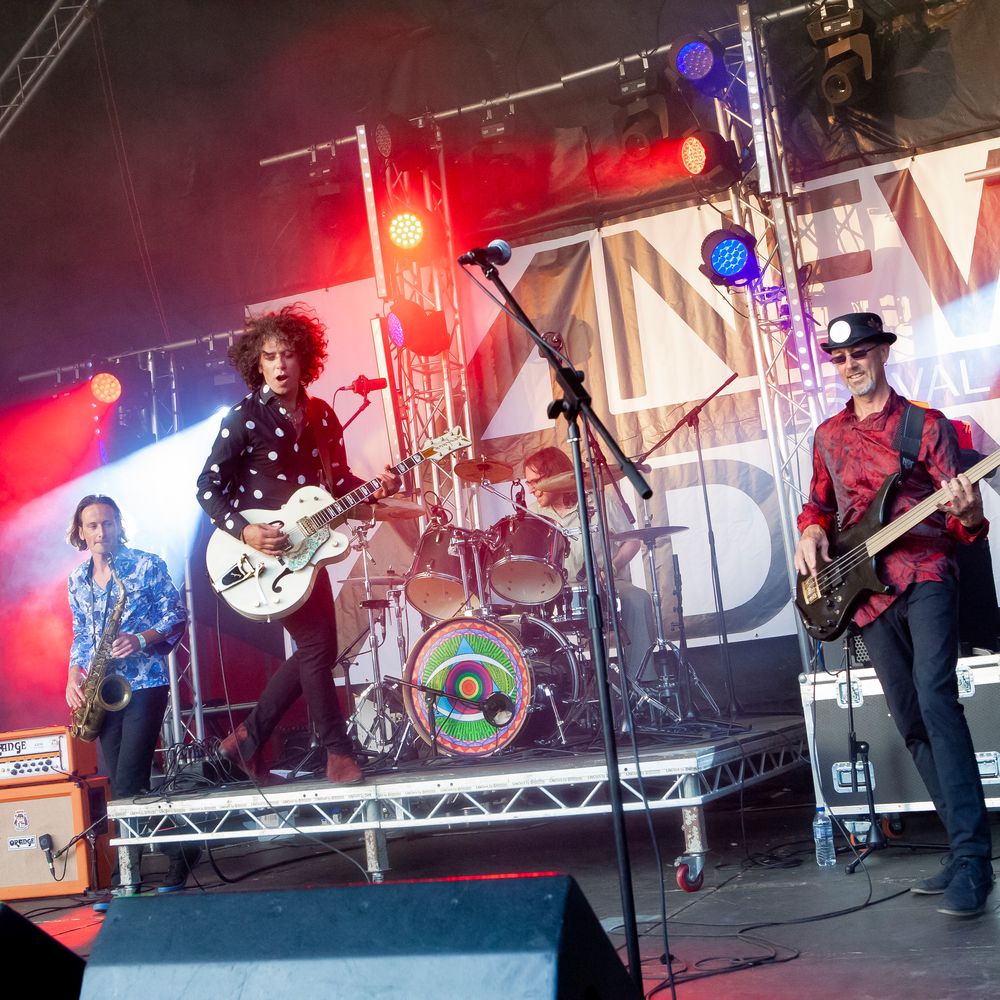 GONG
Back in the 1970s, being a 'freak' was a way of showing your individuality, and Gong were one of the freakiest and most original bands of the decade. Formed by Soft Machine founder member, guitarist and vocalist Daevid Allen, the Anglo-French musical commune blended jazz, psychedelia and progressive rock into a unique musical mix, which incorporated quirky songs and elongated space-rock excursions. Gong were typically clad in flamboyant hippy garb – including hats with propellers – and went by assumed names like Hi T Moonweed and Bloomdido Bad De Grasse, while Allen's surreal lyrics charted out the story of the mythical Planet Gong. But beneath these rather goofy trappings, Gong were also inspired and formidably talented musicians.
When Allen, an Australian national, was refused entry back into the UK from France in 1967, his tenure in Soft Machine had effectively ended. He formed a new group, Gong, and the first album under that name was Magick Brother, released in 1970. Allen and his partner, the poet Gilli Smyth, intoned their pithy observations and countercultural calls-to-action like 'Change The World', over an organic stew of largely acoustic instruments and percussion. Didier Malherbe (aka Bloomdido Bad De Grasse) – who would go on to become one of the group's longest-serving members – featured on sax and flute.
But the story really starts with Camembert Electrique. The album was in a more psychedelic and progressive vein and saw the first mention of Radio Gnome Invisible and its broadcasts from the Planet Gong. The album was originally released on the French label BYG Actuel in 1971, but the newly formed Virgin Records acquired the rights in 1973. And in a move that gained the group considerable exposure, Virgin sold it for £0.49, then the price of a single. Gong came to the notice of John Peel and recorded sessions for his influential radio show.
Allen let his imagination run riot on Radio Gnome Invisible Part 1 – The Flying Teapot, also released on BYG and later leased to Virgin. This first instalment of the Radio Gnome trilogy features the adventures of Zero The Hero and the Pot Head Pixies in shorter songs set alongside lengthy, trance-like instrumental sections. Guitarist Steve Hillage, who had played in Egg and Khan, was drafted into the band along with synthesiser player Tim Blake (aka Hi T Moonweed), adding a more 'cosmic' feel to the music.
Allen left after You, but the group carried on, playing old favourites and selections from Steve Hillage's recent solo album Fish Rising in concert.
Just when it seemed that Gong might have faded out, the group returned in 2009 with another strong set, Gong 2032. The line-up again included Howlett, Malherbe, and Steve Hillage on guitar and production duties. And if some of it is idiosyncratic to the point of baffling, that has always been part of the fun with Gong.
Allen had returned to lead Gong once again in 1990 until his death in 2015. With Allen's encouragement, the band decided to continue, releasing the album Rejoice! I'm Dead! in September 2016 and The Universe Also Collapses in 2019, and a brand new album for 2023, Unending Ascending.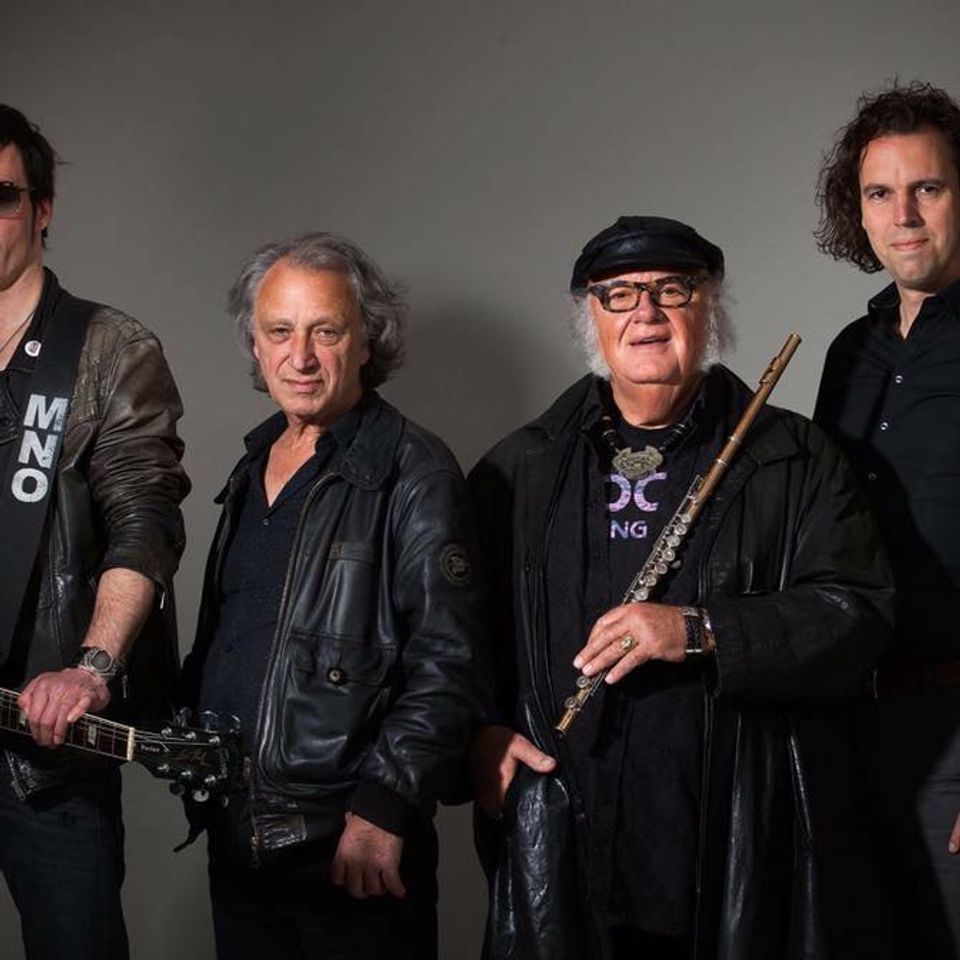 FOCUS
A warm welcome back to A New Day favourites Focus!
With their unique brand of progressive rock, Focus manifested themselves at the start of the '70s as the most successful and appreciated of all the Dutch pop-rock exports. Fronted by founding member Thijs Van Leer, and best known for their hits "Hocus Pocus", "House of The King" and "Sylvia", as well as critically acclaimed albums 'Moving Waves', 'Focus 3' and 'Hamburger Concerto', the iconic Dutch music masters are back with their tenth album, which is guaranteed to please their legions of fans!
After a comeback in the early 2000's, which resulted in the well-received albums 'Focus 8' and 'Focus 9', the band regrouped with a fantastic new line-up. Along with Thijs van Leer on vocals, flute and keyboards, back on the drums is famed Focus drummer Pierre van der Linden, who joined the group on their second album 'Moving Waves' in 1972. Internationally renowned for his rhythmic skills, Pierre remains a defining factor in the Focus sound. Guitarist Menno Gootjes, who participated in Focus at an earlier stage, and acclaimed bass player Udo Pannekeet, complete the band's current line-up. Recently, Focus's biggest hit "Hocus Pocus" was used in a 4-minute Nike commercial before the World Cup broadcast. Focus music can be regularly heard on Top Gear and Saxondale on TV in the UK.
A new Focus era has arrived! There is a rejuvenated passion amongst the band as they released the first studio album for 6 years, Focus 11, in early 2019. They toured the world in in support of the new album, and are now excited re their 50th Anniversary tour. Focus are happy to back on stage where they belong and love to be.
The current Line Up:
Thijs van Leer - Hammond-organ -flute and vocals
Pierre van der Linden - drums
Menno Gootjes- guitar
Udo Pannekeet - bass.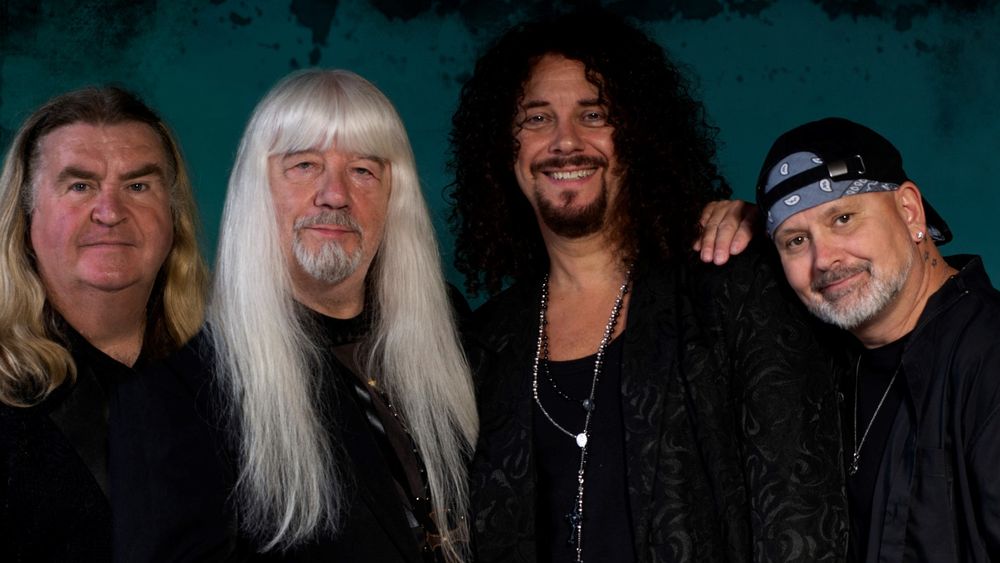 THE SWEET
SWEET are a National Treasure, British at the core and a Rock Music Phenomena that has taken every continent by storm for more than five decades. The Golden Thread that links the past through to the present and into the future is Andy Scott. His determination to maintain high standards with the band's musical legacy and touring is legendary. The band today has an illustrious pedigree recreating "live" the high energy and soaring vocals associated with the Sweet sound that is the band's trade mark. SWEET are Paul Manzi - Lead vocals. Bruce Bisland - Drums and Vocals. Lee Small - Bass Guitar and Vocals. Andy Scott - Guitar and Vocals.
Sweet is a success story that begins in 1970. When Brian Connolly and Mick Tucker left Wainwrights Gentlemen in 1968 to form their own band "Sweetshop", later shortened to "The Sweet", little did they know what lay ahead. They recruited Steve Priest on bass who was gaining a reputation with his band, The Army. After two guitarists, Frank Torpey and Mick Stewart and four singles which failed to make the charts the band were at a crossroads, almost at the point of splitting when Andy Scott, from The Elastic Band, joined. The year was 1970 and the "Classic" Sweet line up was complete.
Brian Connolly, the band's original lead vocalist, had the good fortune to meet record producer, Phil Wainman at the BBC, who had met a couple of songwriters, Nicky Chinn and Mike Chapman, their songs needed a singer and eventually a band. The first Sweet single "Funny Funny" was among the original recordings and the rest as they say is history. The early years brought chart success but did not satisfy the band musically. "CoCo" and "Poppa Joe" gave the band the hits they craved but lacked credibility. The change came with the onset of Glam - "Little Willy" and "Wig Wam Bam" had a tongue in cheek innuendo but when "Blockbuster!" hit the number one spot in the UK, Sweet were arguably the hottest ticket in town. Several more hits followed, "Hellraiser", "Ballroom Blitz", "Teenage Rampage", "The Six Teens" and "Turn It Down" as well as two acclaimed albums "Sweet Fanny Adams" and "Desolation Boulevard".
Despite the hit singles for which they are renowned, Sweet are, and always have been, a seriously heavy rocking band, and their previous appearances at A New Day have had the crowd in raptures. We are delighted to have them back, in what looks likely to be their last year of touring.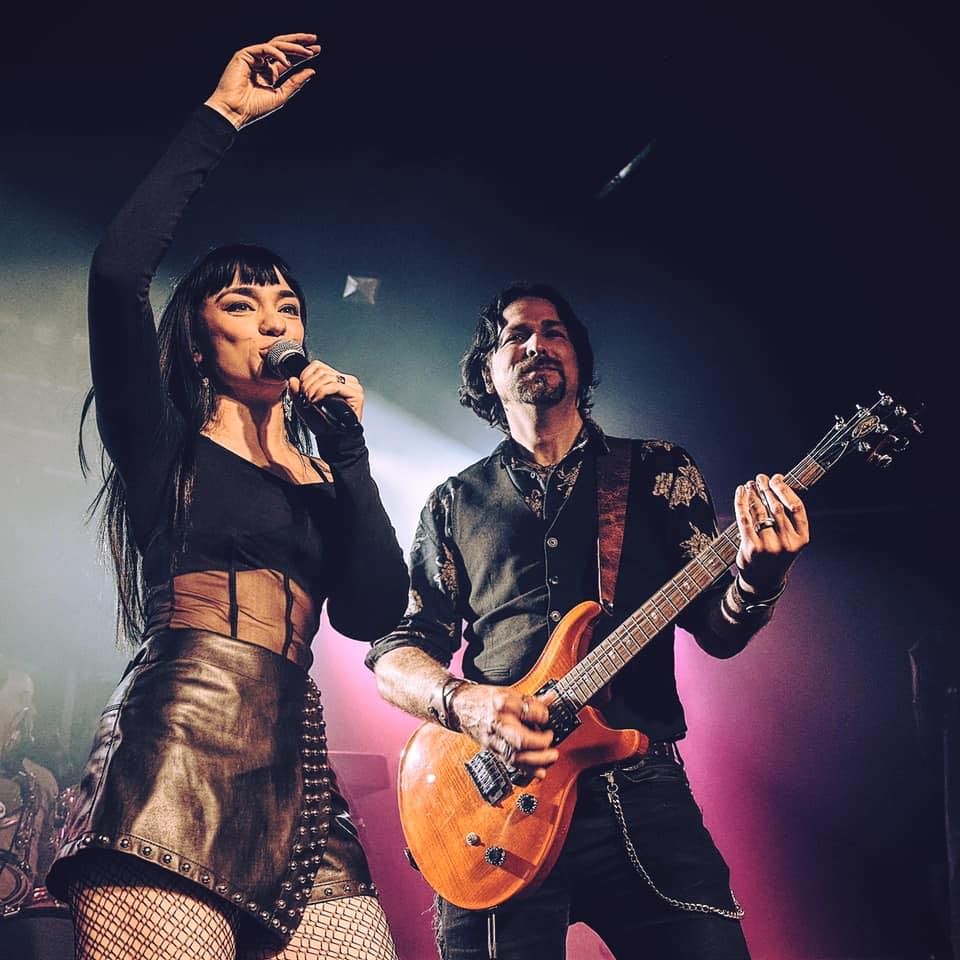 WHEN RIVERS MEET
Combining powerful and heartfelt vocals with thundering guitar riffs, Essex-based Rock band When Rivers Meet offers originality with both talent and authentic personalities. Grace Bond leads with her incredible vocals, as well as bringing raunched-up mandolin and violin instrumentals. Her husband Aaron Bond commands attention with his imaginative guitar and cigar box playing and complements with compelling vocal harmonies… a winning formula.
Since releasing their first EP in 2019, the duo released a second EP and two critically acclaimed studio albums: We Fly Free (2020), which reached #1 in the Blues Album Charts on iTunes, and Saving Grace (2021), which charted #2 UK Official Jazz & Blues Albums Chart, #5 UK Official Album Downloads Chart, and #6 UK Official Independent Albums Chart Top 50. Their third studio album goes on pre-order in March and will be released this summer.
When Rivers Meet were the first band to win four awards at the UK Blues Awards 2021 and another three awards in 2022, including Blues Band of the Year on both occasions. They were nominated again this year and won Blues Band of the Year inducting them into the UK Blues Federation Hall Of Fame. In 2021 WRM were voted Best New Band at Planet Rock's The Rocks Awards, and in 2022 won the Blues Power Award and Album of the Year (Saving Grace). They are the only band to have played all three Alfold Rock & Blues Festivals to date.
When Rivers Meet have developed a powerful live reputation and with their first headline tour last year, which they played to capacity crowds across the country. This is set to continue into 2023 with the Breaker of Chains UK Headline Tour and festival performances such as Steelhouse and Joe Bonamassa's Keeping the Blues Alive at Sea Mediterranean Cruise.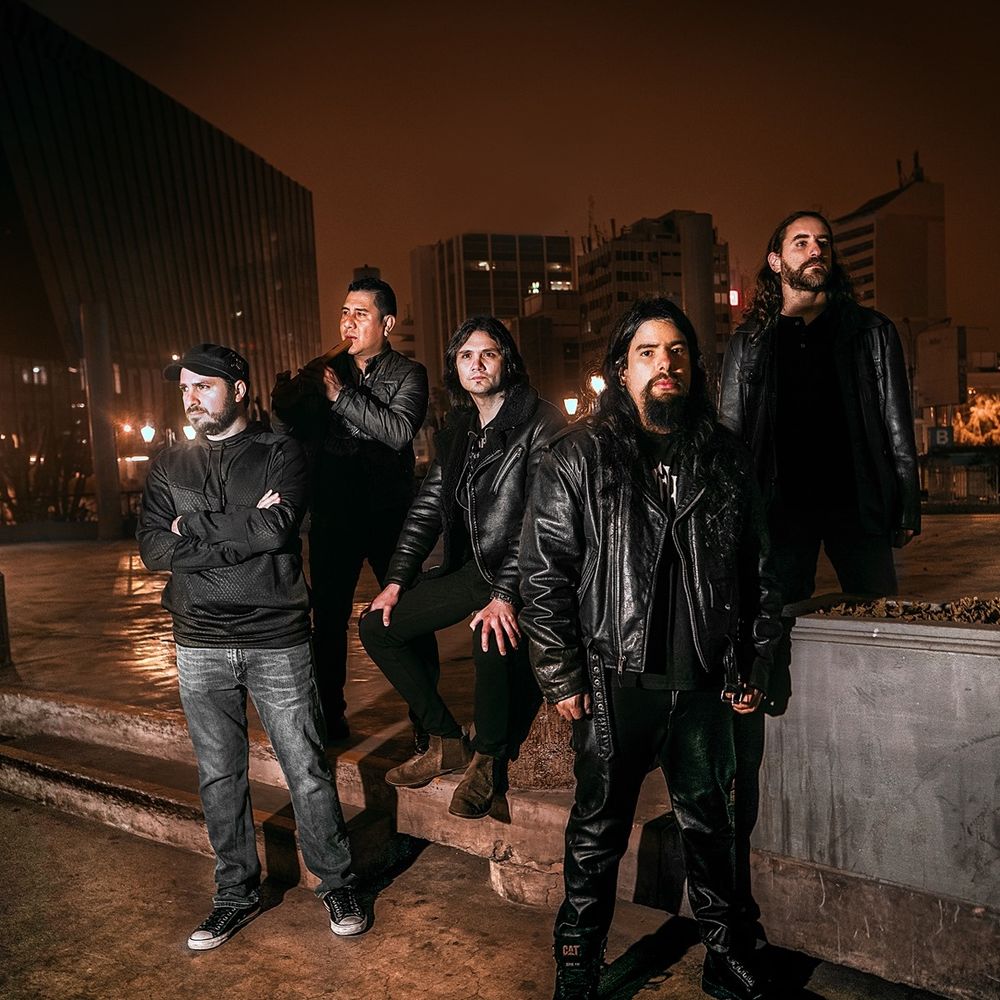 FLOR DE LOTO
FLOR DE LOTO is currently the most prominent prog rock new group in Peru: in only a few months' time they turned from promise-status to major act while growing a cult following in Lima. This instrumental quartet was founded by guitarist Alonso Herrera and bassist Alejandro Jarrín with a guitar/bass/keyboard/drums format, back in 1998. A couple of years later, new drummer Jorge Puccini entered the band and helped it to develop its initial prog leanings further, a process that was effectively continued when flautist Rafael Valderrama also entered the band not too long after the keyboardist's departure. The recording process of their eponymous debut album lasted more than six months: things seemed to get really difficult as Valderrama left when the recording sessions were not yet finished, but new flautist Johnny Pérez (a charismatic veteran musician) came in and helped the band to keep on going. Released in January 2005, "Flor de Loto" stands out as one of the best Latin American prog albums of the year.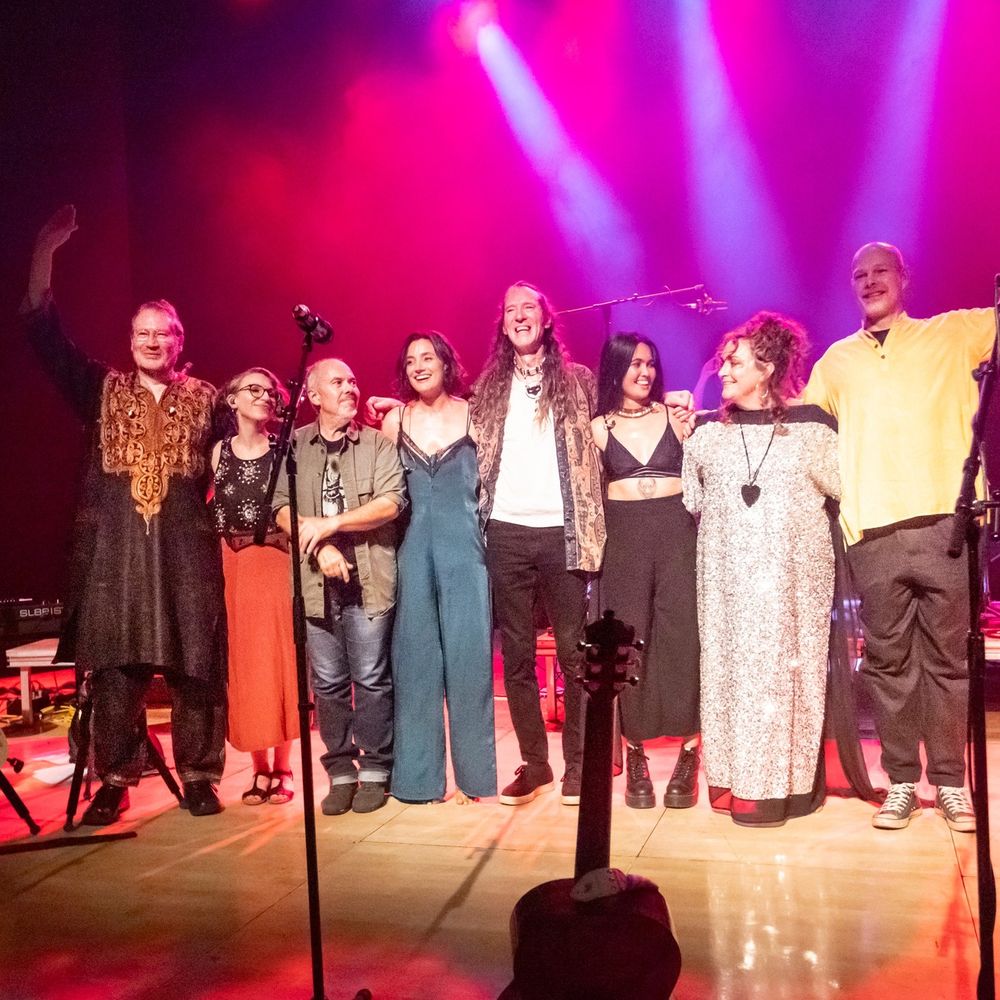 SOLSTICE
A story that began at the legendary Marquee Club in London's Wardour Street finally arrives at the chapter PROG journalist Martin Kielty describes as "Solstice becoming the band they were always meant to be"
Soaring violin and guitar weaving around delicately passionate female vocals, underpinned by driving rhythmic complexity - Solstice were an unlikely band to succeed in 1980s Britain. Yet because of their unique vision, audiences in search of an alternative to the shiny 'product' of the music industry reveled in the band's performances at all the major festivals and sell-out tours, on which they made the legendary Marquee club their home.
In spite of this live success, bolstered by BBC sessions and national music press coverage of an unprecedented level for a then-unsigned band, by the close of the 80s the members had dispersed to pursue successful careers in session work, soundtracks and elsewhere, leaving only the independent Silent Dance album to keep the memory alive.
Interest generated by a CD reissue in the nineties led to a Solstice renaissance, with two studio releases – New Life and Circles – and a live album – The Cropredy Set – both, fittingly, on A New Day Records, documenting their return to the big festival stage. The A New Day association subsequently lead to a period of close ties to Jethro Tull, with Clive Bunker joining on drums for Circles and The Cropredy Set and Andy Glass working as Tull's front of house engineer. between '96 and '98. Andy had been the engineer on Mick Abrahams' solo album 'One', for which Ian Anderson had played on 6 tracks, and he was obviously impressed by Andy, later offering him the job.
On the new album 'Light Up' released January 13th 2023:
"Nothing prepared me for the extraordinary new line-up that they have settled on in the last few years. Solstice are back and are back to being brilliant. Their forthcoming album, Light Up, is utterly sensational: beautiful production, great songs, great voices, tricky rhythms and epic guitar solos." Greg Spawton, Big Big Train
'Wow! - that's a great sounding album! Very Solstice, and a wonderfully dynamic vibe. Evokes the spirit of the band I first saw in the 80s, but with very much a 'here and now' production sound that brings with it the wisdom of those ensuing years. Jerry Ewing, Editor PROG mag.
And live shows:
"Solstice - absolutely outstanding! This band are riding a wave of inspiration right now. The current line up is amazing with each of the eight onstage playing their part to the full. It has to be the happiest and most joyful band on the circuit!" TPA
With the beguiling presence of new vocalist Jess Holland and following the release of 2020 album Sia, Solstice have become THE band to catch live this year. With a string of high profile festival appearances from Glastonbury to Milan, the band's star continues its rapid ascendence while UK, US and European festival promoters alike add Solstice to their lineups.
The new album, Light Up, will no doubt continue their upward trajectory bringing their music to an ever growing audience. Loved by luminaries like Steven Wilson and Greg Spawton of Big Big Train, Solstice remain a band you'll never find in the mainstream yet whose music continues to enthral music fans old and new.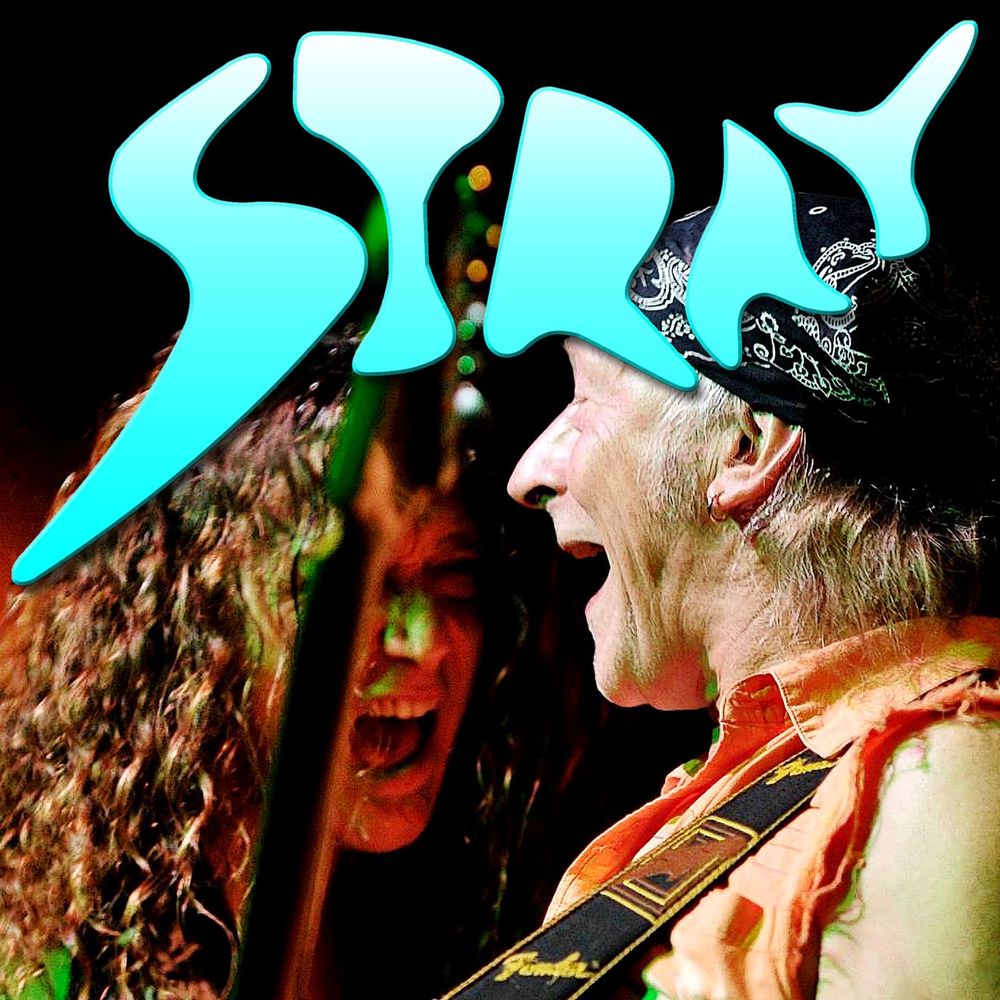 STRAY
With Del Bromham still at the helm, and just as powerful as they ever were, the legendary Stray have been going strong for 50 years and more... on and off! Definitely on these days! STRAY (Del Bromham, Karl Randall, Simon Rinaldo, Colin Kempster, Pete Dyer) will deliver the goods, that's for sure.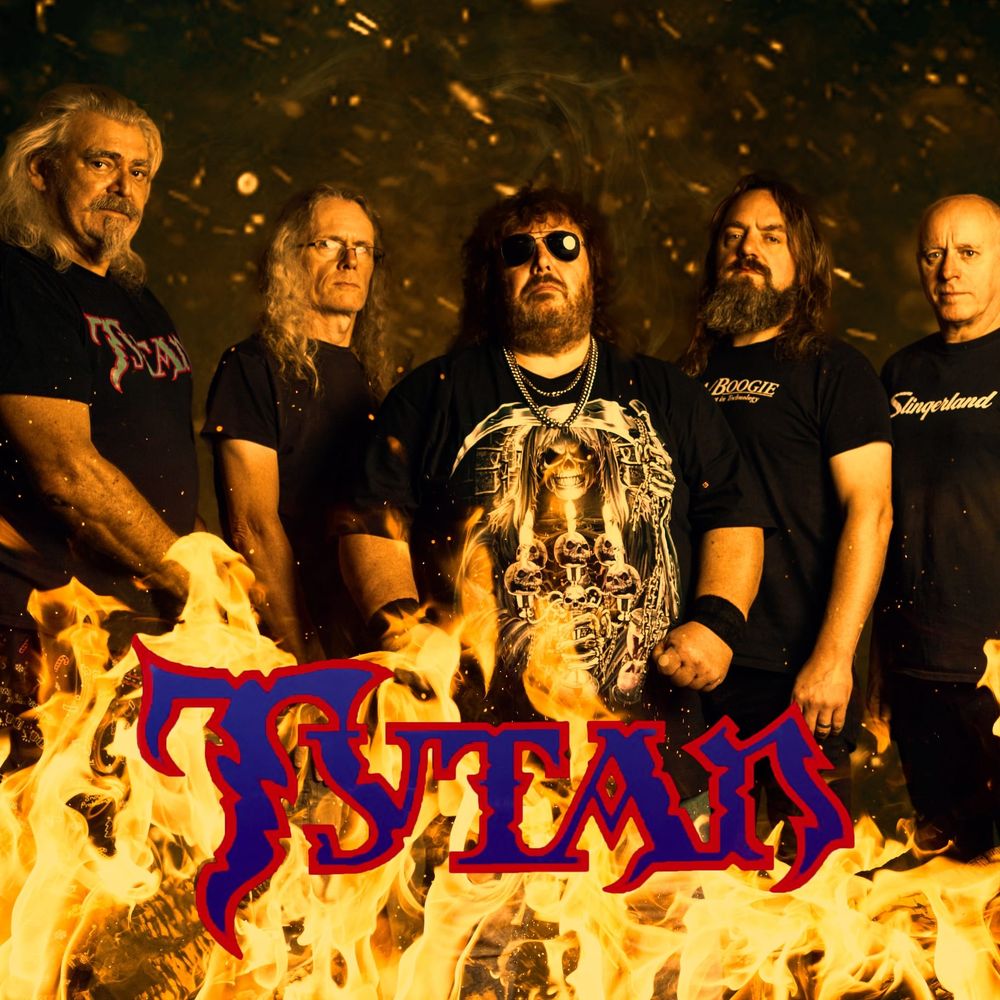 TYTAN
Tytan are a British Heavy Metal band considered to be part of the New Wave of British Heavy Metal: formed in 1982 by original Angel Witch bassist Kev Riddles and drummer Dave Dufort, vocalist Norman 'Kal' Swann, guitarists Steve Gibbs and Stuart Adams. Being described as a cross between Whitesnake and Black Sabbath.
Other former members included Simon Wright (AC/DC, DIOS DISCIPLES).
Signed to Kamaflage, their 1st album was recorded and singles "Blindmen & Fools" released in September 1982, joining Tygers of Pan Tang on The Cage tour the same year.
The label folded before the album could be released. The band split up the following year, the "Rough Justice" album was to eventually released by Metal Masters becoming a cult classic.
Tytan reformed in 2012 invited to play Keep It True festival in Germany, with Kev Riddles and Steve Gibbs including Steve Mann (MSG and Lionheart) and Andrew Prestidge (Angel Witch). Continuing to gig, 2017 saw a 2nd album released "Justice Served" on High Roller Records, to critical acclaim.
The Band continue touring, busier than ever and a 3rd album is in the works. Known for powerful epic vocals combined with driving riffs and melodic songs. Tytan have been special guests on the Girlschool & Alcatraz UK tour, and have had dates with Heavy Pettin', Praying Mantis and soon to be guesting with Metal Church in Poland.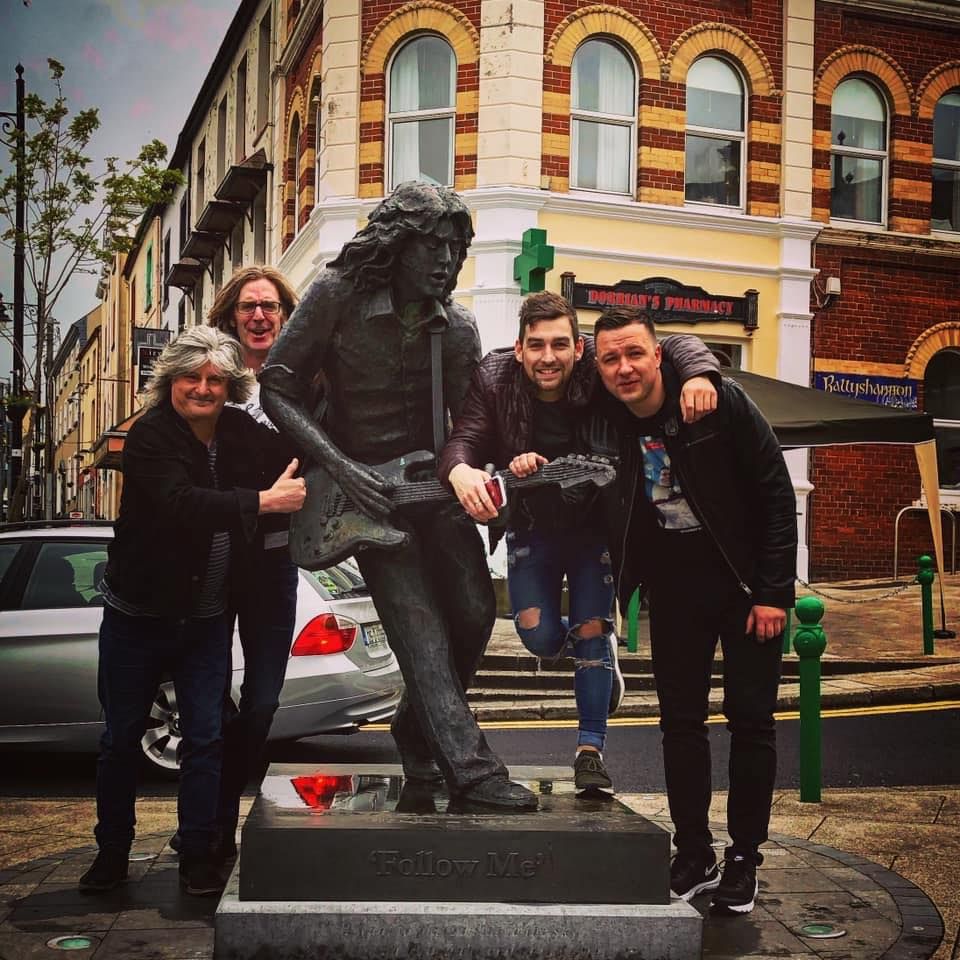 GERRY JABLONSKI BAND
Powerful and energetic, standout act with an ultra confident, no-holds-barred swagger.
Gerry Jablonski and the Electric Band have a unique trademark sound and style.
Their raw and crafty stage show takes the audience on a rollercoaster ride of dangerous, charming and gutsy music with hooks and melodies that cross genres and age groups.
"an absolutely refreshing and life affirming experience. The best band you never heard of" Classic Rock Magazine
2018 Blues Awards - UK Blues Act of the Year
Live national TV appearances on STV
10 years road experience throughout Europe, UK and Scandinavia
​Sellout headline shows for Jazz Scotland
​5 self released albums
New single "Heavy Water" produced by Grammy award winning Stacy Parrish
Critical praise in national music magazine features and reviews
​New live album "LIVE at the Blue Note"
Radio play on BBC Radio 2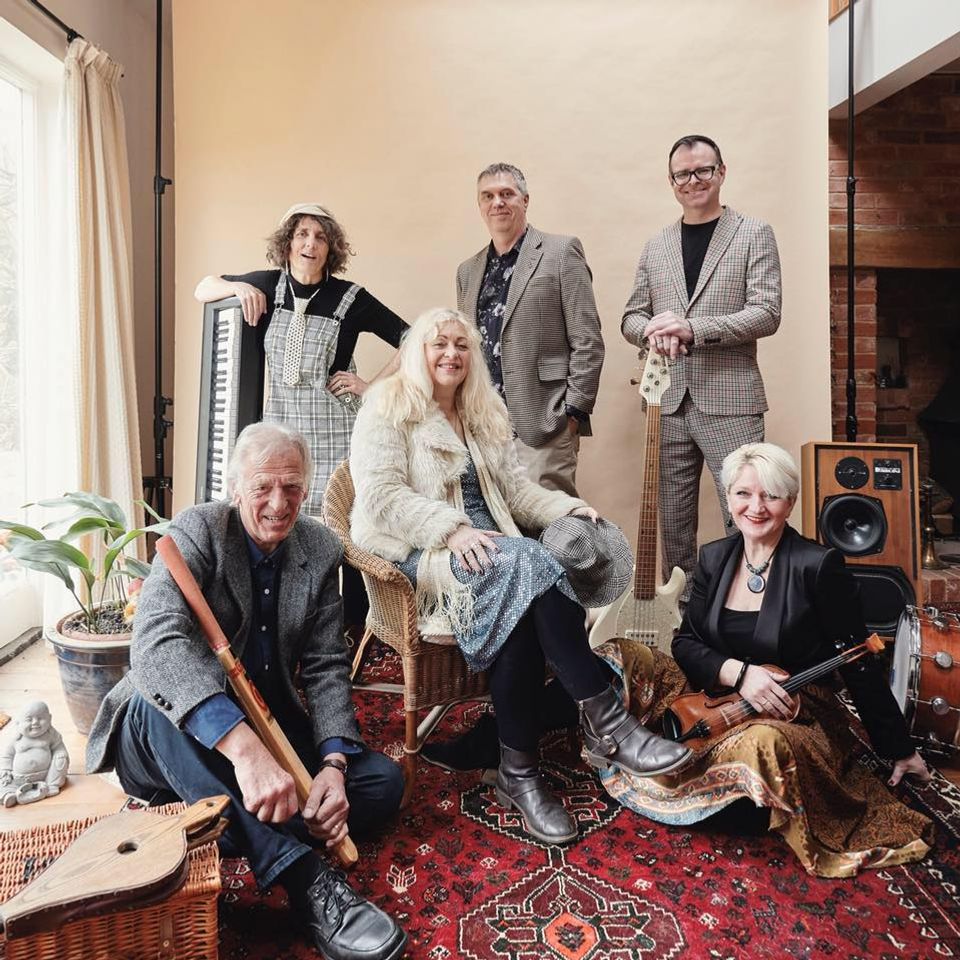 THE SANDY DENNY PROJECT
THE SANDY DENNY PROJECT - Otley Courthouse - 31 January 2020
​The Sandy Denny Project is a coming together of six highly talented musicians (two of them impressive multi-instrumentalists)… or four lead vocalists… or, if you wish, all of IOTA backed by three of Little Johnny England… another branch of the band-family tree would take you back to the revived Fotheringay or Trad Arr. This is an act with a record (several in fact – see the merch stand) and this is their latest conviction – and utterly convincing it is!
However, you subdivide the SD Project, it's a group of players who've come together to perform and celebrate the music of Britain's greatest female singer-songwriter. Sally Barker's tongue-in-cheek opening question ("Has anybody heard of Sandy Denny?") brought a roar from the audience and led straight into the well-chosen Listen, Listen, which opened a set featuring music from across Sandy's career. Naturally, the essential and obvious were in there, but so was the unexpected – annA rydeR's understated take on a song from Sandy's first solo album; Sally's subtly rewritten Come All Ye; the pop singalong of London, a Sandy lyric with a melody created by Thea Gilmore.
Always respectful of its source material, the SD Project is most definitely not a covers band. Songs and arrangements are reimagined – Rising For The Moon is driven not (as I expected) by fiddle, but by slide banjo; John The Gun, as P J Wright introduced it, is "folk metal"; annA took Until The Right Thing back to Fats Waller and added cornet to her piano accompaniment; Winter Winds benefitted from more than a touch of ABBA!
Other highlights included Marion Fleetwood's emotional reading of The Lady which perfectly captured the spirit of Sandy, the magical arrangement of Fotheringay, and the a cappella trio first half finale of Quiet Joys.
Then there's that encore! We'd have been content with Time Goes, but instead that became the centrepiece of a trio of Sandy's finest, an absolute hat-trick of consummate performance – the best encore I have seen in years.
The logistics of bringing this band together (all members have other career commitments) are problematic and any opportunity to see them should be grabbed with both ears.
Nigel Schofield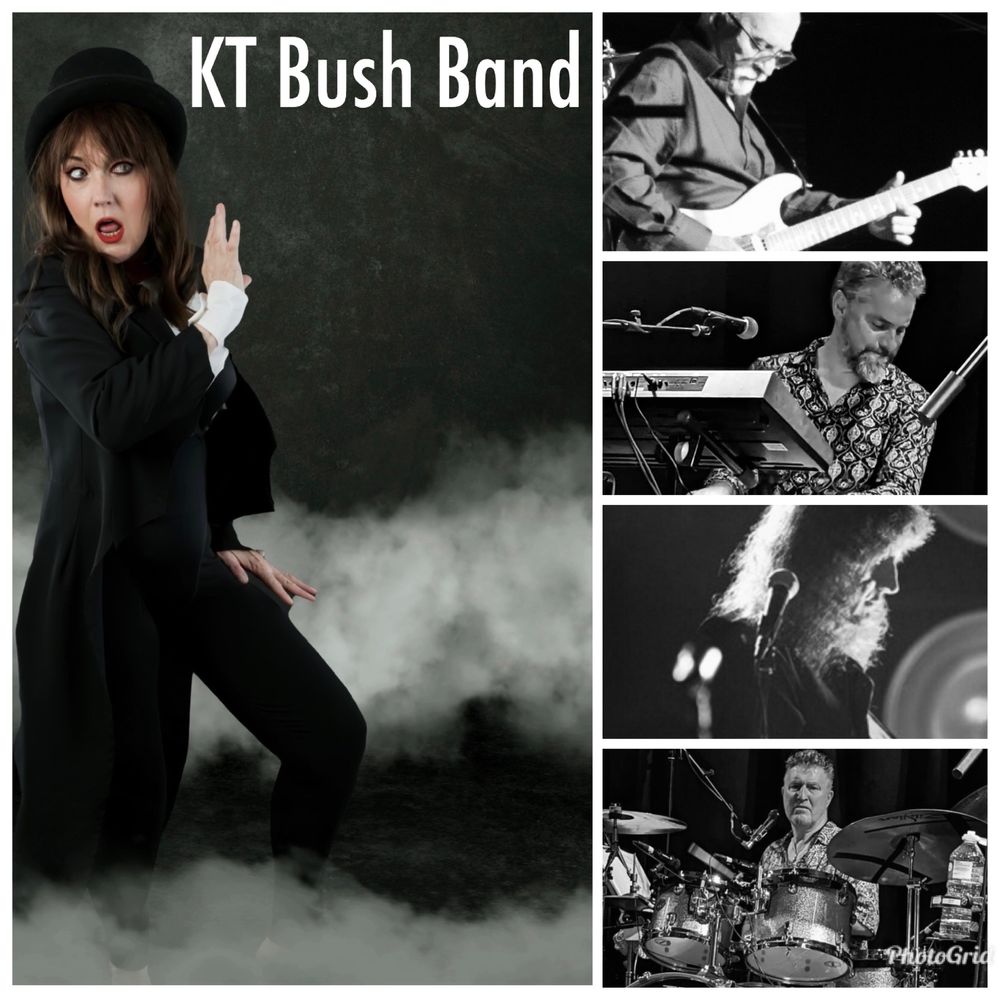 THE KT BUSH BAND
The KT Bush Band were formed in 1977 and featured Brian Bath on guitar, Del Palmer on bass, Vic King on drums and a young female singer called Kate Bush. The band gigged throughout London and the South of the U.K. playing many of Kate's original tunes alongside some classic covers, and Brian went on not only to perform on four of her early hit albums, but also the original Tour Of Life, Kate's only ever tour.
Now the band are back, with original member Brian Bath at the helm and featuring Steve Bevan on bass, Emily Francis on keyboards, Pete Turtle on drums and the sensational Sallie-Anne Hurst on vocals.
Classic Kate Bush songs are the order of the day, alongside a few never-heard-before originals from back in the day, all intertwined with entertaining and sometimes hilarious anecdotes from the gentlemen that were there to help launch Kate's hugely successful career back in the day.
A show not to be missed - this is not a tribute band.
This is The KT Bush Band.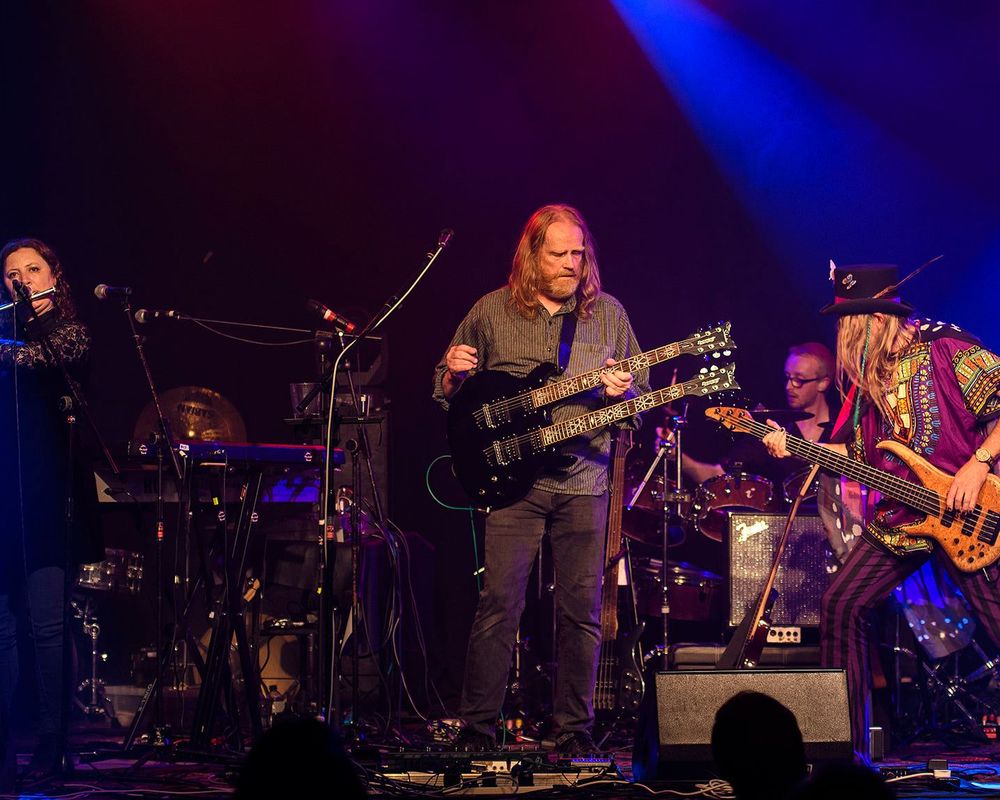 HAZE
Despite building their reputation as a progressive rock band, Haze have always drawn on a wide variety of influences, ranging from pop, rock, folk, metal, meandering psychedelic jams to tightly structured prog epics. Formed in Sheffield in the late 1970s by brothers Chris & Paul McMahon, they established their reputation as one of the hardest working underground bands of the '80s. Despite disbanding in 1988, the band reformed ten years later and have continued to perform regularly ever since, including weekly live-streamed concerts during Lockdown. Their latest studio album, Back to the Bones, is probably their heaviest-sounding release and follows a definite back to their roots direction. It's also their fastest-selling album to date, proving that Haze's legendary reputation is richly deserved. The band are currently working on new songs for release in 2024.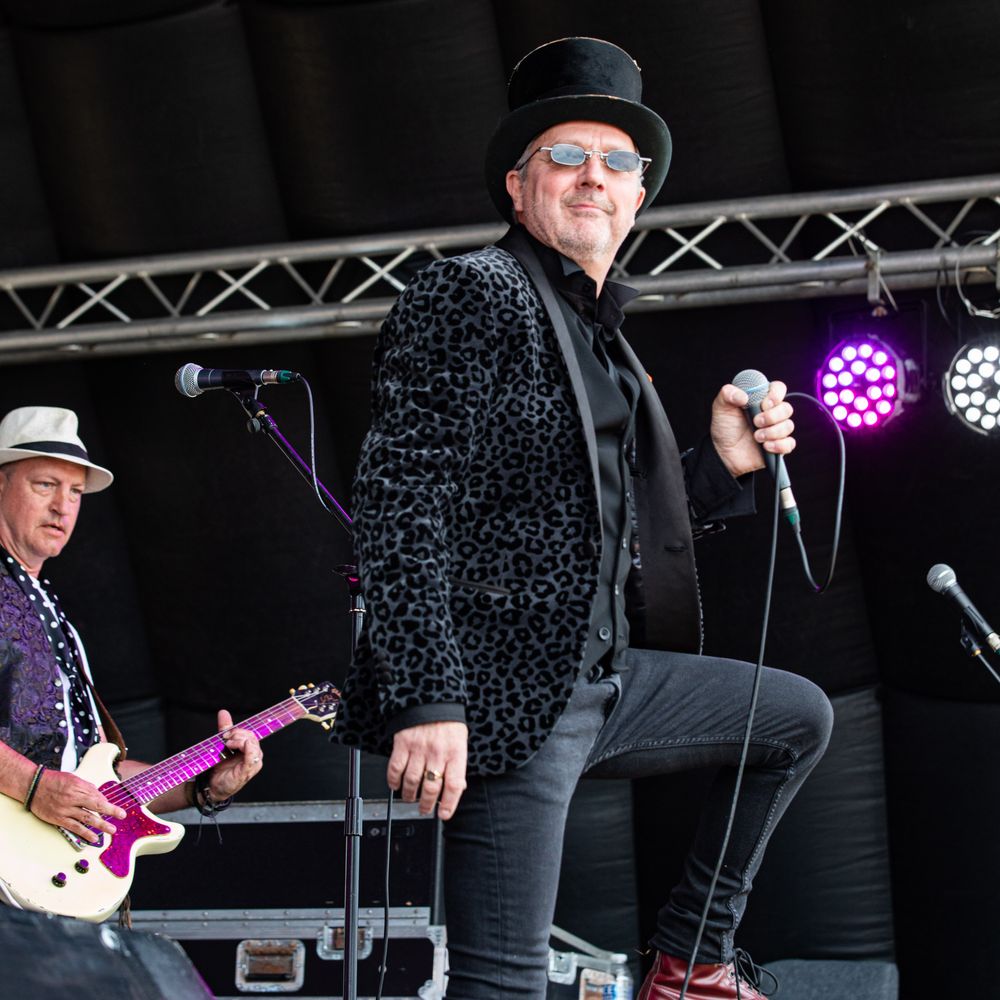 SOHO DUKES
What can I tell you that you don't already know?
They've spent a fortune in pubs. They scrub up nicely. They're not as bright as they think they are. And, even as I write, one of those rascals is probably chatting up your girlfriend. But you knew – or at least suspected – all of that already, right?
Perhaps unsurprisingly, the origins of Soho Dukes can be traced back to a pub. It was way back in '82 – when all of this was just fields – that Johnny Barracuda (vocals) and Bomber (bass guitar) ambled into the back room of a boozer to make their stage debuts in a band that would become Empyre and then, eventually, Monterrez. The pair of chancers chased their rock'n'roll dreams all the way to London's Marquee Club, where Monterrez twice appeared as support act for Guns N' Roses. That was in 1987. When there were only four channels on the telly.
Bomber eventually quit Monterrez to join London-based Waterbratz and then Drugdealer Cheerleader with whom he recorded an album and toured the nation. A rock 'n' roller to the core, Bomber has no recollection of either of these events. Meanwhile, after a subtle – and ultimately pointless – change of name, Barracuda-fronted Monterrey continued to bother the London public with a short run of Marquee Club headline gigs as well as support slots with Faith No More & Skid Row. A few weeks later and Barracuda was out on his ear. For not being David Lee Roth. He still isn't.
Ready to move on? We'll take a cab. Just a few miles south. And several years north.
This is where we find Col 'The Duke' Foster (rhythm guitar and inspirational songwriter) and 'Appy 'Ammer' Blackwell (drums). These are the South London-based Dukes who, in the early 1990s – along with Johnny Barracuda and Bomber – formed most of the criminally short-lived Sawbones, a band celebrated for some riotous shows at Kingston's Grey Horse. Another pub. See? Told you. They're relentless.
We head on. A lengthier drive this time. To 2017. Park up where you like, mate. Anywhere along here will do.
As the newest Duke, Si Leach, (lead guitar), might have been expected to need time to adjust to the lifestyle; the hard drinking, the sharp clothes, the fast women, the slow horses. But you'd be wrong, my friend. What was intended as an audition quickly became a rehearsal. Si was born to be a Duke. Not only has he regularly shouldered a guitar with Bad Boy Boogie, a well-respected and reliably noisy and boisterous (noisterous?) AC/DC tribute band, but he's known Stateside too, having starred in an impromptu gig in Key West by virtue of winning a drinking competition. These are admirable credentials and precisely why he was snapped up. Proper lively. Like.
So, there we are. Now you know. These are your protagonists – your bovver boys, fops and dandies. Your elegantly wasted weekend millionaires. SOHO DUKES are among you, my friends. Don't say I didn't warn you.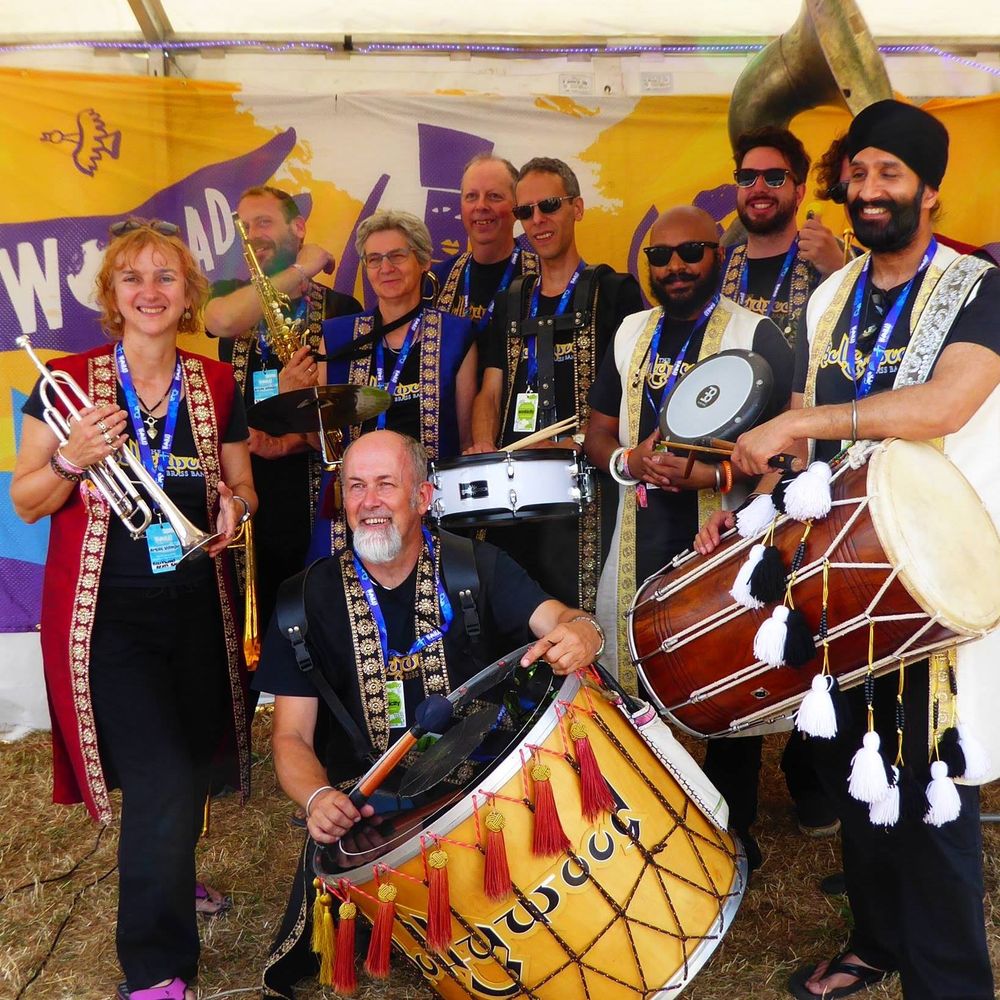 BOLLYWOOD BRASS BAND
Bollywood Brass Band is the UK's pioneering Indian-style wedding band, playing the great tunes and compulsively danceable rhythms of Bollywood.
Twice nominated for Songlines World Music Awards, the band has performed all over the world – in venues, at festivals, and for Indian weddings in the UK, Norway, India, Thailand and South Africa. The BBB is versatile, playing both amplified stage sets and in a street formation, and they are equally at home headlining a festival or delivering exciting workshops in schools.
Repertoire covers classics from the Golden Age of Bollywood up to current hits. Stage shows can feature Bollywood film clips or a dancer to get your audience up and dancing. With brass, saxophone, dhol drums and a colossal sousaphone, the BBB is one of the most colourful, joyful and exhilarating acts around.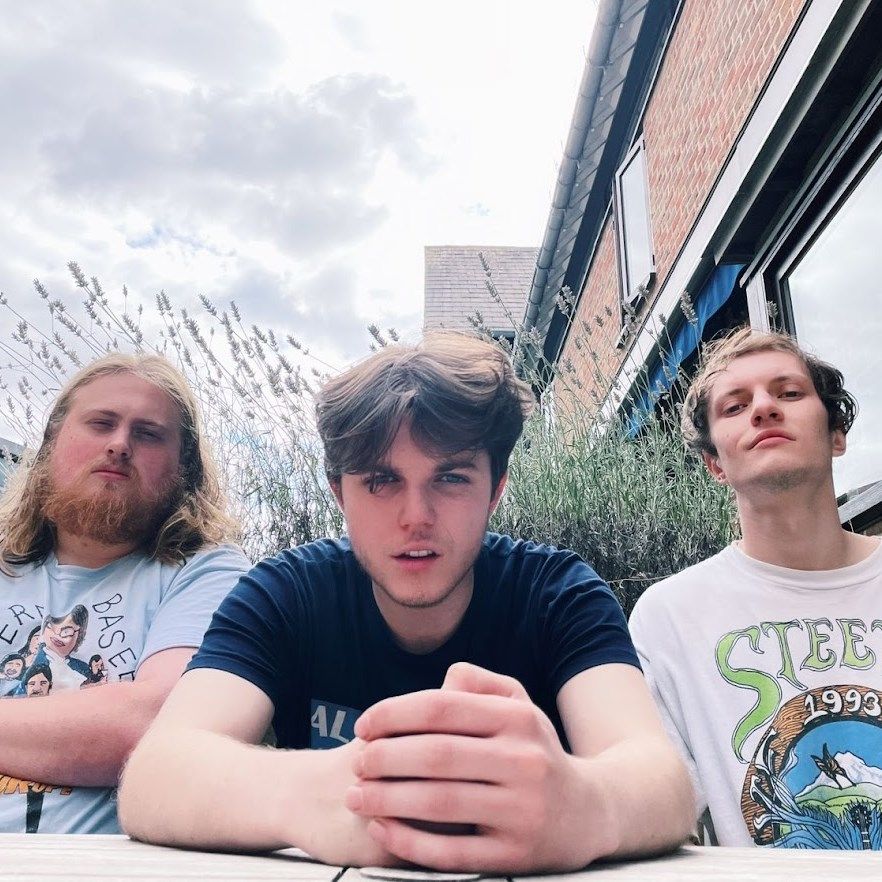 THE ZAC SCHULZE GANG
Formed in Gillingham in 2021, The Zac Schulze Gang have been storming the south-east scene with a mixture of up-tempo blues, rock and pop originals and covers ranging from the 50s to present. Drawing influence from artists such as Stevie Ray Vaughan, The Beatles, The Who, Dr. Feelgood, Rory Gallagher, Eagles, 10cc and many more.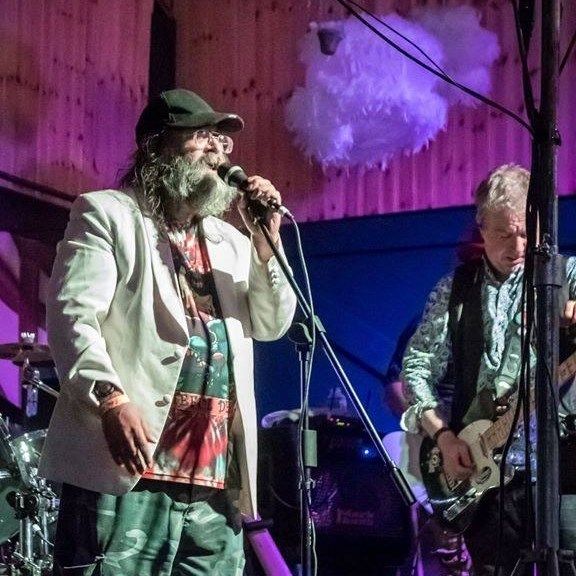 PARADISE 9
Paradise 9 are;
Gregg McKella on vocals, guitar, glissando guitar, clarinet and space FX's (Daevid Allen's Glissando Guitar Orchestra)
Tyrone Thomas on lead guitar and backing vocals (SpacedOgs/ Olympic Clamp Down/Jeanette Murphy Band/ex-Alternative TV)
Neil Matthars on bass (ex-Casual Affair)
Wayne Collyer (ex-Deep Skin) on drums.
"Their music brings a chilled yet punchy approach to the rock genre sound taking inspiration from psychedelic and progressive bands like Pink Floyd, Gong, and Hawkwind, while fusing proto and post punk from the Ramones through to the Clash, and the Psychedelic Furs."
The band are presently working on their next studio album "Science Fiction Reality set for release in 2020. Gigs unfortunately have been shelved due to the present coronaviris situation, but will be back on the road as soon as it is safe to do so!
Their live sets regularly feature guests' performances including Nik Turner (Space Ritual/Inner City Unit/Space Gypsy/) sax/flute, Kev Ellis (Dubbal/ Gregg & Kev) on harmonica, Angel Flame - dancer (Arthur Brown/Space Ritual), Steve Carvey RIP on daburka drum, Nik Nimbus (ex-Here & Now) drums, and Jeanette Murphy backing vocals and percussion, to name a few. [See Guest Musicians]
The late great Judge Trev Thoms (Inner City Unit), who sadly passed away December 2010 occasionally guested for Paradise 9 on lead guitar. Judge Trev played guitar on two tracks on their 2013 album 'TAKE ME TO THE FUTURE' with Nik Turner also playing flute and sax on the title track. Further contributions on the album included Jeanette Murphy on backing vocals, and Steve Teers on backing vocals and djembe